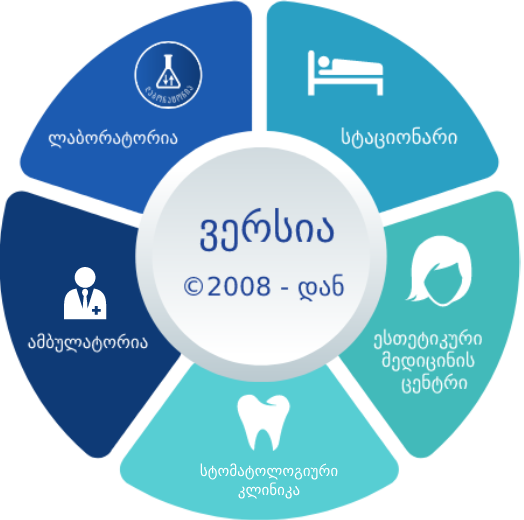 Ltd Georgian Medical Software (MEDSOFT) created the Hospital Information System -HIS, its name is MEDWORK.
MEDWORK's consumers are 56 clinics in Georgia, including 26 hospitals and 30 outpatient type facility's. Thousands of users are working daily in this system. Functionality of the system is increasing every year by 20-25%.
MEDSOFT started its creation in 2008 when a group of programmers together with doctors created a system for the outpatient clinics - Patient Registration Module, Financial Module (payments, debts, services). The main principle was to create a system using modern programming technologies and also those technologies should be easily renewable in the future, as the other marketplace programs that were used in Georgia used old 1995-2000 programming technologies. Also, the main principle was to set up a system where the management and staff of the clinic would be able to manage independently from the group of developers. In a year the system was implemented in several outpatient clinics.
In 2011 the master's thesis was protected by one of the author (Tornike Kapanadze ) "Information Management of Patient Medical Record". Since 2012 the group of programmers and authors has grown and in 2 years a functionality for hospitals has been added, in 2014 the fifth version of the system was released. Since 2012 the following specialists are working on improvement and perfecting of the project:
Senior programmers / developers
Project managers
programmers / developers
Junior Developers
Database Administrator
Testers
Staff from medical field
Experienced personnel in hospital management
Practitioner doctors
Analyst
Warehouse manager
Public Health Specialist
Since 2013 Tornike Kapanadze is working on the Doctoral thesis "Information Management principles for hospitals in Georgia" In 2013, another large module was added, the laboratory module. Since 2016 the electronic medical records and laboratory module has become the international standard of HL7. Since 2015-2016, integration has been added with Ministry of Health, Social Service Agency, Revenue Service (RS.GE - pharmacy / warehouse) In 2018 MEDSOFT became the representative of the Swiss company ️CLINERION in Georgia. CLINERION is the leading company in the field of medical informatics. Hospitals will be able to join the International Clinical Research Network. Also in 2018, it has begun and implemented integration with accounting systems and laboratory analysers – with the laboratory management system.
The list of MEDWORK modules can be accessed here: modules
Hospital Information System - MEDWORK has a complete Georgian and easy-to-use interface, it has the function and capability to fully provide any type of medical institution for the purpose of receiving, keeping and processing data.Current 2018's version 8.5 is intended for all five types' of medical institutions:
outpatient clinic,
hospital,
laboratory,
aesthetic centre,
dental clinic.
The knowledge and experience gathered over the years is reflected in MEDWORK.